Welcome to your Course Navigator!
Tip: Bookmark this page now for quick access to your all of your course's materials and links.
• Read over the course info below, then have a look around (click on any Lesson to expand it).
• More content will be added before each sequence begins.
• Arrange for a practice client to be available during the course.

Course Overview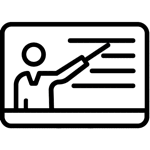 Follow along with the live class lectures and demos (recordings will be available 1-2 weeks after the class)

  Practice the techniques with a friend, client or colleague during the class's practice periods

Fill out your brief documentation for CAMT credit afterwards (live attendance required for credit)
For-Credit Option
Credit and Certificate of Completion will be awarded based on live attendance and participation of the full 1-day course, as well as satisfactory completion of required documentation, including a brief written learning summary.
Live attendance earns CAMT credit (1 specialty-day credit, or 8 elective credits), plus 8 NCBTMB credits.
Credit for completing the recorded version + a quiz may be available several months after the course; contact us after the course for updates.
Always Good to Keep in Mind
This is an experimental format, and subject to technological and circumstantial variables. In the case of serious issues with live-casting, we'll arrange recorded, rebroadcast, or other credit options for you. Thanks in advance for your adaptability, we're looking forward to this experimental course!