On-Demand Recordings
• Four on-demand recordings of lectures
Included Extras
• Recordings of all 4 live-online lectures
• Certificate of Achievement
• Course e-notebook, transcriptions, MP3 audio
• ...and much more.
Til Luchau
Lead Instructor
Til Luchau
 is a lead instructor and the Director of 
advanced-trainings.com
. With a diverse background that includes manual therapy, somatic psychology, transformative education, as well as organizational and leadership development, Til's ability to connect interdisciplinary, big-picture ideas to practical, real-world applications has made his talks, trainings, and events popular worldwide. He sees coaching and consulting clients online, and in-person for manual therapy near his home outside Boulder Colorado. Contact him 
here
.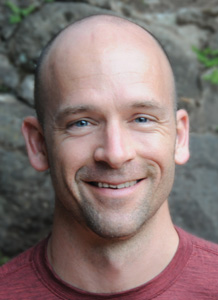 Chris Pohowsky
Teaching Assistant
Chris Pohowsky is a Certified Rolfer™, and is an Instructor for advanced-trainings.com's Advanced Myofascial Techniques series. Chris is passionate about competitive cycling, running, climbing, kayaking and yoga; his outdoor athletic pursuits go hand in hand with a strong interest in personal well-being and injury prevention. Chris' particular talent lies in fostering a cooperative, enjoyable, and focused learning environment in his seminars, and he takes pride in offering workshop participants a solid foundational experience from which to develop their own work. Chris has a full-time private practice in Blacksburg, Virginia, where he is on the faculty of Blue Ridge School of Massage and Yoga. Contact him here.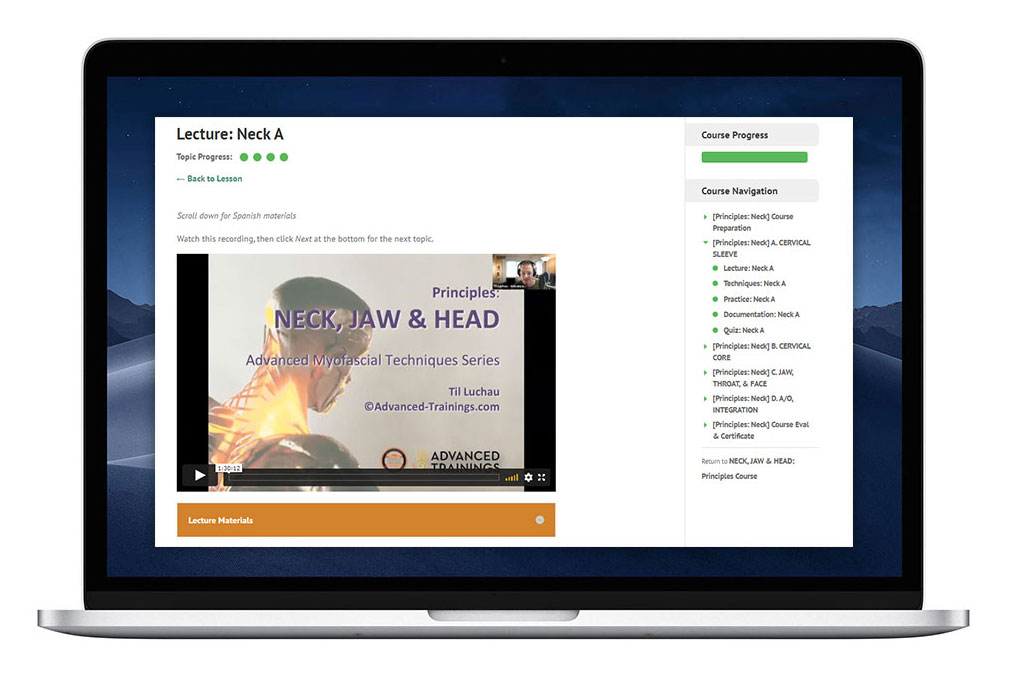 An interactive home-study experience
All of the recordings are available via an easy-to-use, any-device Course Navigator. You will also have access to all class recordings & techniques for practice and review once purchased. Join the faculty in the ongoing forum as they discuss the purpose and principles behind the techniques.
What people are saying about our courses
Price
$118
(or as low as $29 after combined discounts)
Combinable Discounts
Price
Coupon Code
Neck Course Repeaters
$68
Already taken the in-person Neck, Jaw & Head course? Take $50 off!
Enter NECKREPEATER at checkout.
CAMT
$68
In the CAMT certification program, but haven't taken Neck course yet? Take $50 off!
Enter 50offCAMT at checkout.
CAMT + Neck Repeaters
$43
In the CAMT program, AND already taken the in-person Neck, Jaw & Head course? Take $75 off!
Enter 75offCAMT at checkout.
Neck Online Video and DVD Owners

Take another $39 off

your purchase
Already own the required Neck, Jaw & Head techniques videos (online, or as DVDs)? Take an additional $39 off!
DVD owners: Contact us for your code before enrolling.
Online Video owners: Enter VideoOwner at checkout.
Optional Course Materials
20% off for course enrollees
Take an additional 20% off optional materials when you're signed up for this course:
• Advanced Myofascial Techniques (Volume 2) textbook (highly recommended!)
• Other selected materials announced during course.
Enter 20offNECK at checkout.
Not sure which code to use? Please contact us before purchasing.
Discounts are $5 less as post-purchase rebates; are not transferable; and are subject to expiration.
Price
$118
(or from $29 after discounts)
Discounts & Price
Coupon Code

Neck Course Repeaters

$68

Already taken the in-person Neck, Jaw & Head course? Take $50 off!
Enter NECKREPEATER at checkout.

$68

In the CAMT certification program, but haven't taken Neck yet? Take $50 off!
Enter 50offCAMT at checkout.

CAMT + Neck Repeaters

$43

In the CAMT program, AND already taken the in-person Neck, Jaw & Head course? Take $75 off!
Enter 75offCAMT at checkout.

Neck Online Video and DVD Owners

Take another $39 off your tuition

Already own the required Neck, Jaw & Head techniques videos (online, or as DVDs)? Take an additional $39 off!
DVD owners: Contact us before enrolling.
Online Video owners: Enter VideoOwner at checkout.

Optional Course Materials

20% off for course enrollees

Take an additional 20% off optional materials when you're signed up for this course:
• Advanced Myofascial Techniques (Volume 2) textbook (highly recommended!)
• Other selected materials announced during course.
Enter 20offNECK at checkout.
Not sure which code to use? Please contact us before purchasing.
Discounts are $5 less as post-purchase rebates; are not transferable; and are subject to expiration